A Brief History of Gross National Product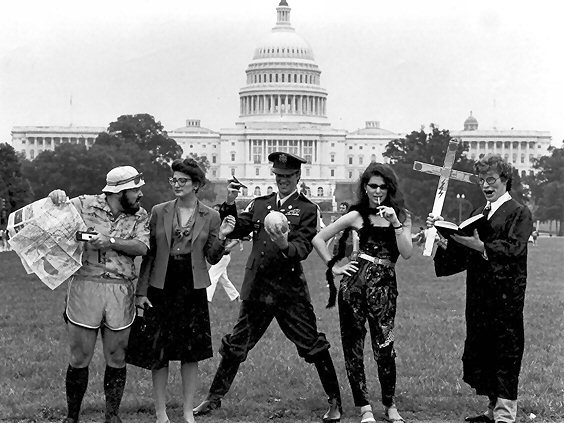 Gross National Product started as a TV project for CNN/WTBS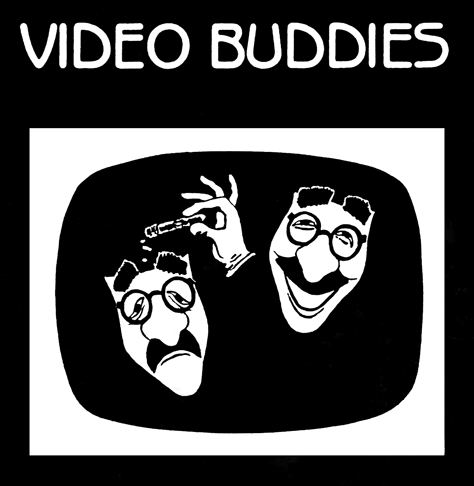 in 1982 and was before named Video Buddies comedy, which played in the Washington, D.C. area at clubs and theaters.
After the TV appearances the group changed to professional actors. By the end of 1982, GNP opened its Reagan-meets-Dickens classic, "A Bonzo Christmas Carol"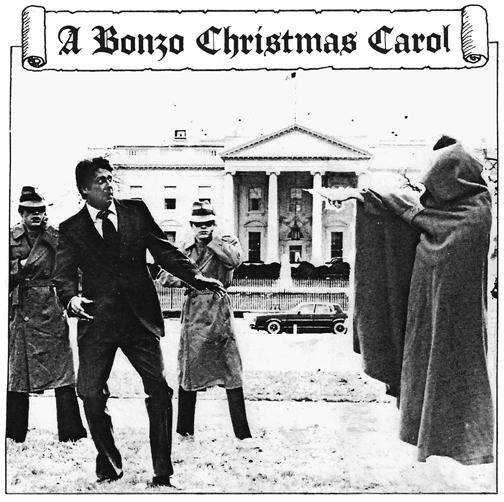 , simultaneously in DC AND New York Off Broadway. For the following year GNP had troupes in both NY and DC, but by early 1984 the group consolidated to its NY base, with frequent return engagements in Washington with shows like "The Right Fluff"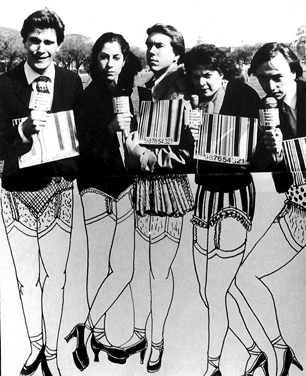 and "Terms of Endorsement." In New York GNP appeared at the famous Improv, the Duplex, Caroline's, the 78th Theatre Lab and most of the cabaret circuit. A year later GNP found itself in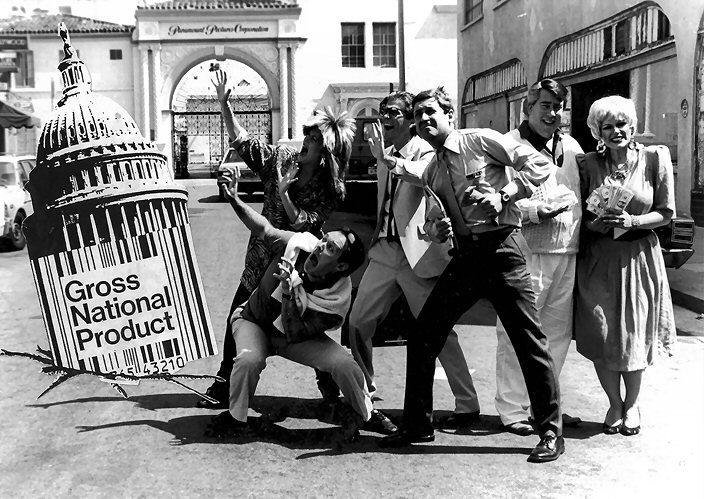 Los Angeles for a few years performing at the Comedy Store and the Cast Theater and returned to Washington where GNP's released "Man Without a Contra" in both D.C. and L.A. While in Washington GNP picked up steam and became a mainstay at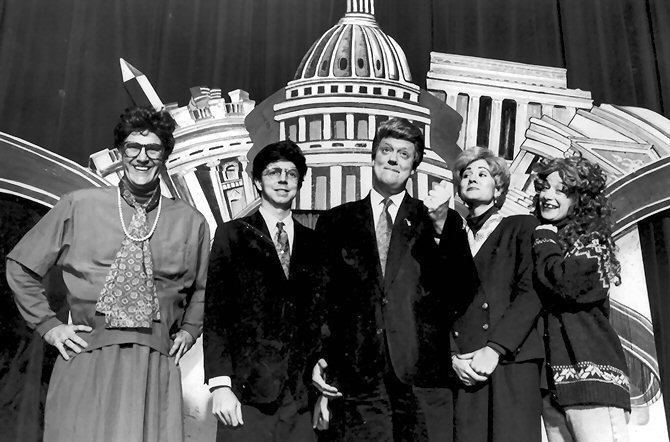 Washington's largest club, the Bayou and then later Arena Stage's Old Vat Room. Now GNP appears nationally in different cities.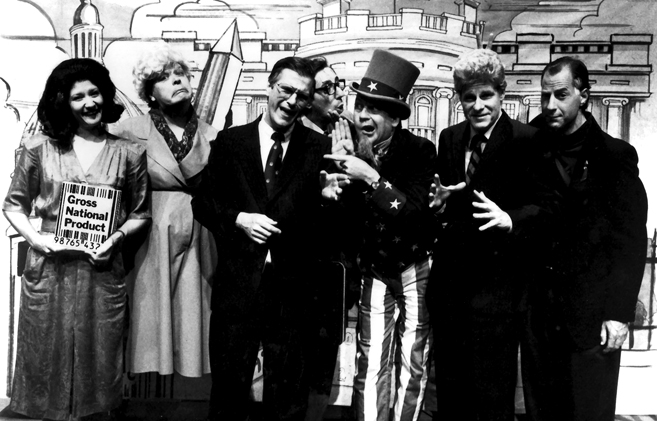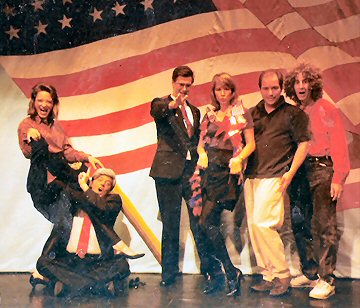 GNP's company of actors has changed over the years with revues such as:
GNP has performed in 45 states for one night appearances and has presented its revues for longer runs in New York (Off Broadway), Los Angeles, San Francisco, San Diego and Washington DC, which is of course the Nation's Capital—what better place for the Gross NATIONAL Product?
GNP has appeared privately for a wide variety of clients, from Fortune 500 companies to associations and charitable organizations. Click here for a partial client list.
 The LA Weekly calls us, "a fresh viewpoint through incisive writing, on-the-button-characterization and zippy-timing . . . GNP is a comic powerhouse." To see other a prtial list of reviews and press coverage, check out our press page.
In 1996 GNP launched a totally non-political parody of motivational speakers with "The Wayne and Ellen Show" Moti-FAKE-tional Speakers revue.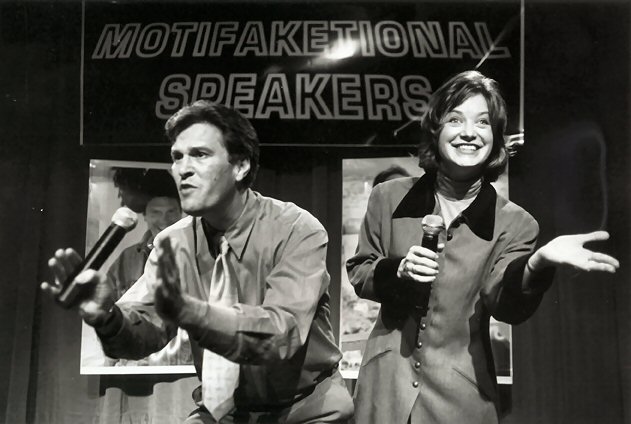 The Media on GNP:
"Always funny . . . the longest-running, most successful sketch troupe in Washington . . . keeping you grinning from year to year" –THE WASHINGTON POST
"GNP has the audience in stitches" –THE NEW YORK TIMES
"Sharp impersonations . . . the city's most popular company of satirists" –LOS ANGELES TIMES
"A comedy feast" –THE WALL STREET JOURNAL
"First rate satire" –THE LONDON OBSERVER
"GNP is versatile and energetic . . . making headlines hilarious" –SAN FRANCISCO CHRONICLE
"Relentless, articulate, drop-dead biting satire" –LA DAILY NEWS
"GNP promises Washington's best dirt" –LIFE MAGAZINE
"Fresh material and served up with a smile" –Tom Brokaw, NBC
"You guys are great . . . amazing!" – President Bill Clinton
Our Clients on GNP:
"The Smithsonian Resident audience of some 600 knee-slappers were captivated by your multi-talented troupe . . . thank you for a wonderfully funny evening." –SMITHSONIAN INSTITUTION
"The actors were well received and provided the necessary levity during the show . . . thanks for making the show a memorable and successful event." –PEPSI COLA COMPANY
"On behalf of all of us at Xerox, I want to thank your group for turning our otherwise mundane luncheon into a spectacular and memorable afternoon." –XEROX
"The program was a great success" –THE DOW CHEMICAL COMPANY
"You put on a top-notch revue that is obviously a tremendous hit with all age groups . . . we had a wonderful time laughing at the quick wit and spontaneity that infused the evening with hilarity" –THE CORPORATION FOR PUBLIC BROADCASTING
"Thanks to your efforts, the ceremony was a well-run, first-class affair that attendees will remember . . . the skits were hilarious. I'm still receiving many compliments from the members of the audience on your performance." –THE MARCH OF DIMES
"The actors, writing, sets and pacing were all top-drawer professional, and we couldn't have asked for a better time. Thanks for a fantastic program." –PRENTICE HALL PUBLISHERS
GNP on TV
Our first foray into television was a 1982 pilot for CNN/WTBS for which the group formally referred to as the Video Buddies changed its name. At that time Ted Turner's CNN was still trying to gain its now famous reputation and the pilot was tabled for more serious news.

GNP relaunched in 1985 when we fed via satellite the first political cartoon for TV news. This was a forerunner to all those Internet videos you can catch today on YouTube. This quickie political commentary ended up on shows like "The 90's" and WXPR News "Live at Five". GNP won the Washington International Film Festival's Rosebud Award for a "90's" segment on Marion Barry.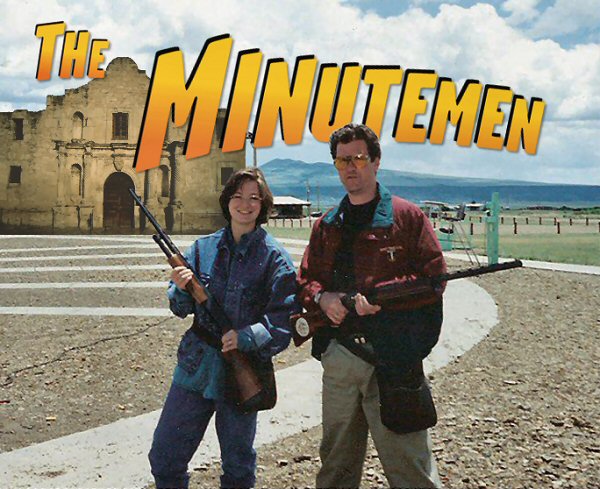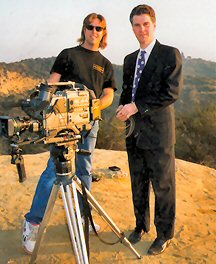 By 1992 GNP got serious about television, producing the first of our 5 national PBS specials: "The UnOfficial Debates. "The First 100 Daze" followed in 1993.
And a year later our third special,  "GNP3", went on to become an international finalist at the prestigious Golden Rose of Montreaux awards, Europe's equivalent to The Emmys. We went on to air "Politics as Usual" in 1995 and "Mock the Vote in 1996. Selections from these are now available on our YouTube channel.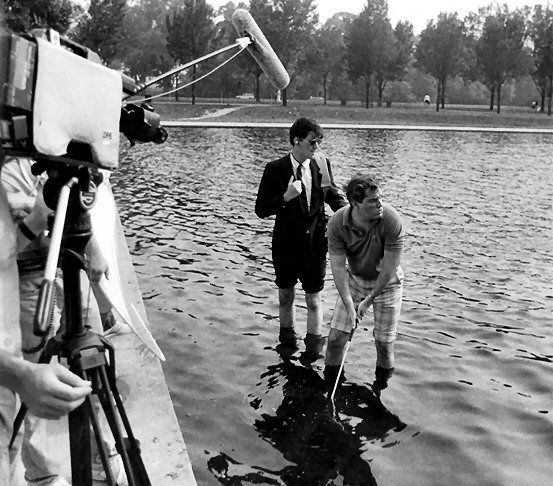 After all this TV activity in the 90's, GNP and Scandal Tours® have made appearances on NBC, ABC and CBS and been regular guests on BBC and CNN throughout this decade and internationally in Japan and Europe and continues to be a favorite interview and commentator on many stations (plus have numerous mentions and reviews in print).
Fodor's Travel guide and Frommer's have given GNP a pick for comedy for incoming tourists and sightseers.
In 1988, the bus stopped here in Washington with the launch of the first fully acted production on wheels with Scandal Tours®, a hysterical and historical tour invented by GNP. The tour was inspired by

a combination of Gary Hart's monkey business and came into full cherry blossom when

Marion Barry's career went up in smoke! (At least temporarily.) Today members of the comedy group still host Scandal Tours. As the Associated Press once said, "leave the kids at home, skip the Lincoln Memorial and see the real Washington". The Washington Post put it best that Scandal Tours is, "where GNP cast members re-create the highlights of the lowlifes."  UPI noted in 1989 that Scandal Tours is, "a hilarious journey that is fast becoming a sensation among Washington's inner circle." Even the real Rita Jenrette
got into the act by riding the tour and correcting the real location where she and her Congressman husband (later a central figure in the ABSCAM scandal) had congress of a different sort at the Capitol building. Scandal Tours continues to be covered by journalists internationally. ABC's Peter Jennings called it, "a worm's eye view of Washington" and USA Today just plain "hilarious." Scandal Tours provides regular updates, as it is a "growth" business, with new classics such as "Craig's list," (as in Senator Larry Craig.)